Permanent Hair Extensions Application in Kolkata
Growing Length, Changing color or adding volume is no more a dream. With hair extensions you can do it all in no time without damaging your own hair. If you are looking for best permanent hair extensions application in Kolkata, you are at the right place. Curls and Tresses offers a wide range of products and application techniques depending on your hair type and texture. If you have decided to go for permanent hair extensions in Kolkata, you need an expert for applying them to your hair. With many years of experience in the field, and lots of good reviews from our customers, Curls and Tresses is proud to offer you flawless and best permanent hair extensions application in Kolkata.
Permanent hair extensions are attached with your natural hair using various techniques. The best part of it is , none of these techniques causes any pain or damage to your natural hair. But remember, these extensions needs to be reinstalled every 3 to 6 months depending on your hair growth. As your natural hair grows, extensions tends to come down. At some point, they grow out giving a bad shape to your hair and might cause difficulties while combing. This is the time when you need to see us again. The extensions are taken off carefully and the same hair is reinstalled at a minimum cost.
Our expertise gives guarantee of no pain and and no damage to our hair. Call us today if you are looking for the best permanent hair extensions application in Kolkata.  The different techniques that we use are described below.
Permanent hair extensions application in kolkata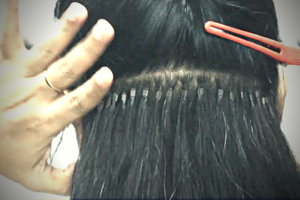 Micro ring hair extension application is a technique, where the extensions are attached to the roots of your natural hair , using micro ring type beads. This type of technique is very popular and widely used in India, as this causes no damage to your hair. Opening them or reinstalling them is also quite easier than other methods.
Nano ring application technique is quite similar to micro ring application. The only difference is the size of the ring. Nano rings are quite smaller in size than micro rings and are less visible giving a more natural look than micro ring application. For Nano ring application the hair extensions are modified to fit into the Nano rings.
In sew in hair extensions application technique, weft extensions are used. They are cut into sizes and are sewed with your natural hair using beads. Readymade beaded weft hair extensions are more popular in this method. The sew in method is a good alternative for tape in hair extensions as they fall flatter on client's head, giving a more natural look than any other type of hair extensions.
Keratin glue/ Keratin bond or fusion is an old technique of hair extensions, where the extensions are attached with your hair using a keratin glue. Although this gives a good finishing, but sometimes it is quite difficult to remove. Application of heat on the hair might damage your hair a bit. This type of technique is not recommended for clients who have thin or damaged hair type. The glue method although was popular earlier, but now in less use after micro ring and nano rings came in market.
Tape Extensions Application
Tape hair extensions uses a sticker and is pasted in a form of sandwich on your natural hair. The tape extensions falls flat on hair and gives a perfect natural look. But unfortunately, this hair extensions are not too good for Indian weather. Due to heat and humidity, client tends to sweat more in this region. Hence the glue does not bond well and often comes out after 1 to 2 weeks. We would not recommend a Indian client to go for tape extensions unless she is flying off to other country in a couple of days.
These are not all. Curls and Tresses is constantly upgrading themselves to introduce advanced techniques in Indian market. We are not a regular salon, but dedicatedly into hair extensions only. We give all our effort to use the best practices in the industry. If you are looking for the best permanent hair extensions in kolkata and best permanent hair extensions application in Kolkata, call / whatsapp us today on +91 9830181702 / +91 9874084798. To book your appointment , you might need to pay an advance of  1000 only ( phone pe / gpay +91 9874084798)